Overview
King Pleasure: Nu Nile
In 1985, the Palladium, one of New York City's most prominent nightclubs at the time, asked Jean-Michel Basquiat to create two paintings for their VIP area. Nu Nile is one of those paintings. Basquiat, along with Andy Warhol, Keith Haring, and many other famous artists and musicians loved to party at the Palladium. When the club was torn down in the 1990s to create housing for NYU students, the murals were returned to Basquiat's family.
Grade Level
6-12
Media Theme/Big Idea
Jean-Michel Basquiat often returned to the same motifs in his work, repeating them multiple times in the same painting to create a visual rhythm. 
Essential Questions
Looking closely, making connections, and responding to selected works of art featured in the exhibition Jean-Michel Basquiat: King Pleasure.
Samples from this Curriculum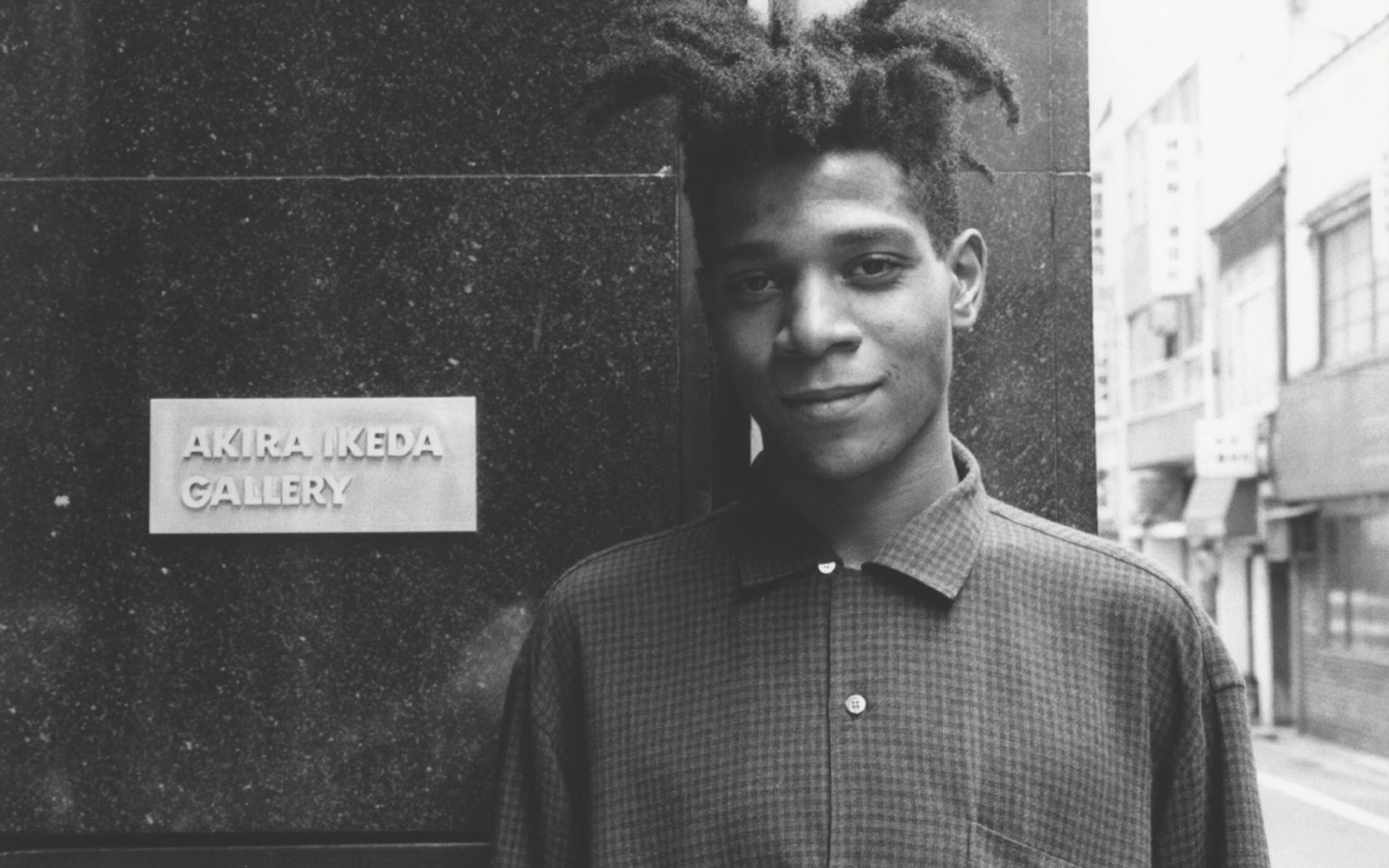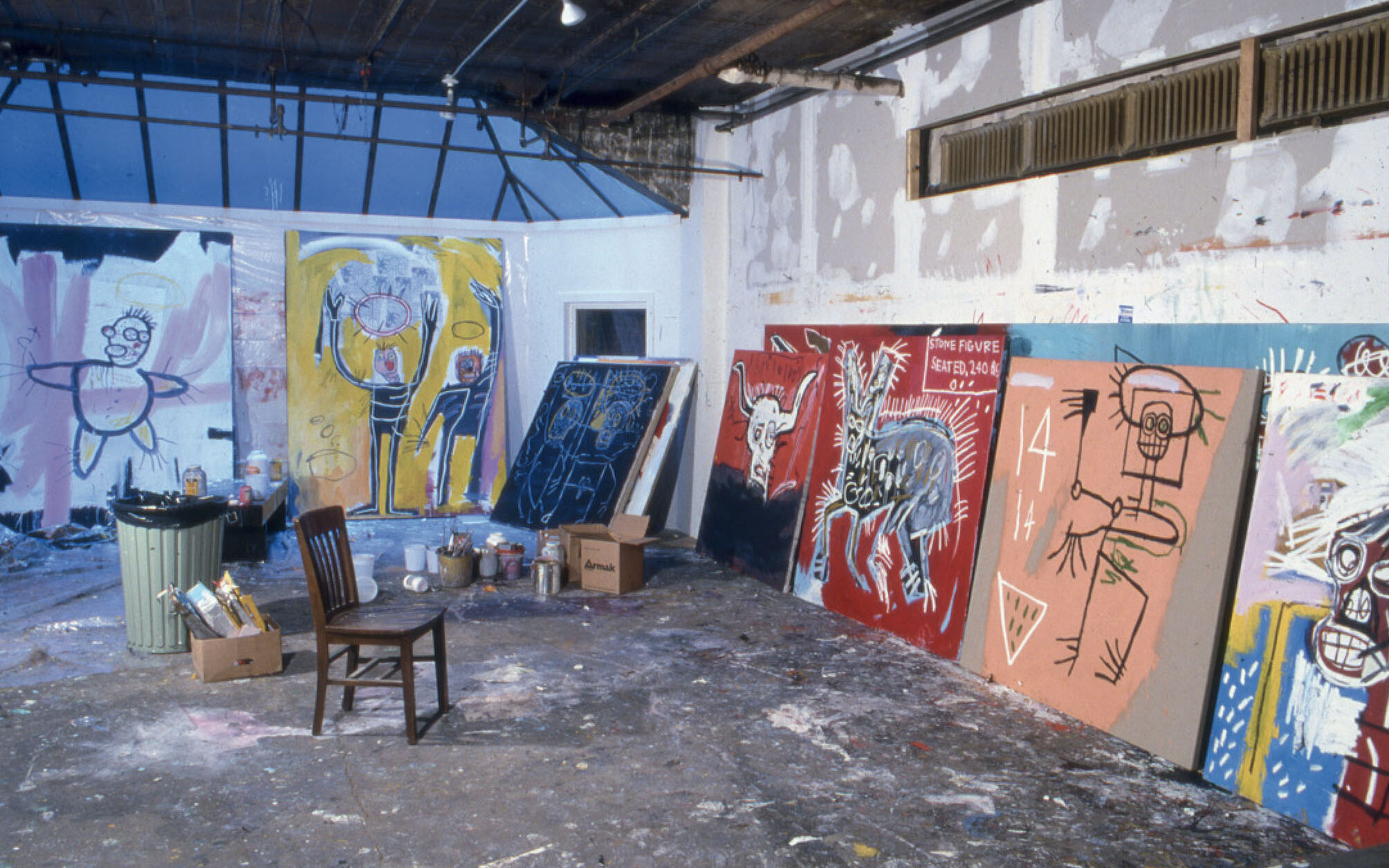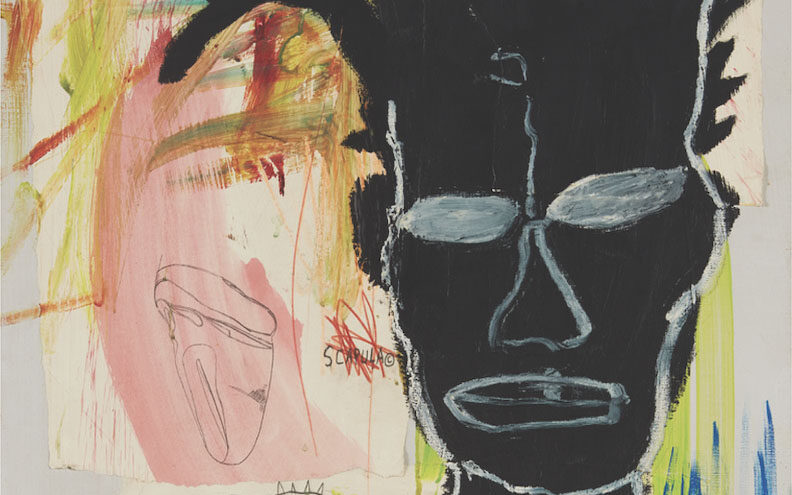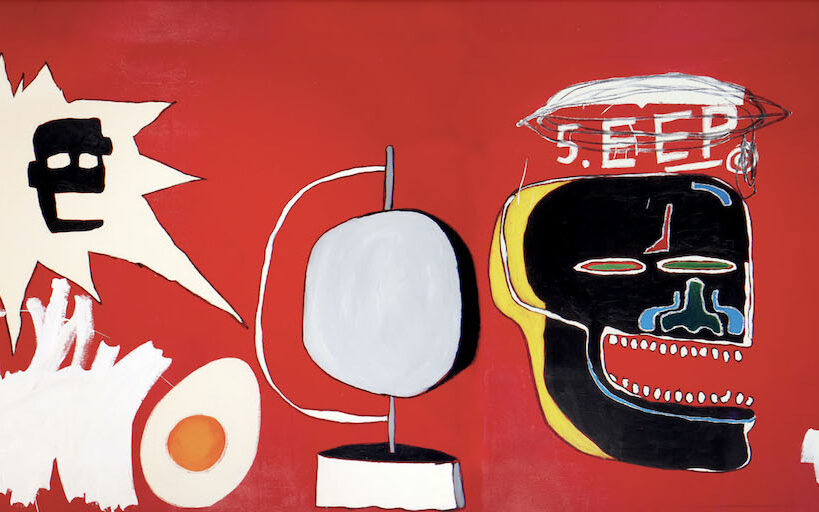 Materials and Tools
Paper
A drawing tool such as a pencil, pen, colored pencil, or marker
Activities
Step 1: Questions for Looking
Note: this is a large painting (8.5 feet tall x 41 feet long).

What stands out to you in this painting?
What do you notice about the figures in this painting?
What words would you use to describe them?
Basquiat was inspired by music, and he always had music playing while he painted. He made this painting, Nu Nile, for the Palladium, a nightclub where he loved to go dancing. The title, Nu Nile, comes from a brand of hair pomade.
While looking closely at the painting, listen to some of the music Basquiat liked: Listen Like Basquiat: Nightlife
open.spotify.com
Choose one song from the playlist and listen to it twice. As you listen, look at the painting and make connections between what you see and what you hear.
The same way musicians create rhythm by repeating a beat, visual artists create visual rhythm by repeating lines, colors, and shapes. While rhythm in music moves our bodies, rhythm in visual art moves our eyes through a painting.
How does your eye move through this painting?
What lines, colors, and shapes do you see repeated?
Basquiat was funny, and he liked to use humor in his work
What do you see here that looks humorous to you, and why?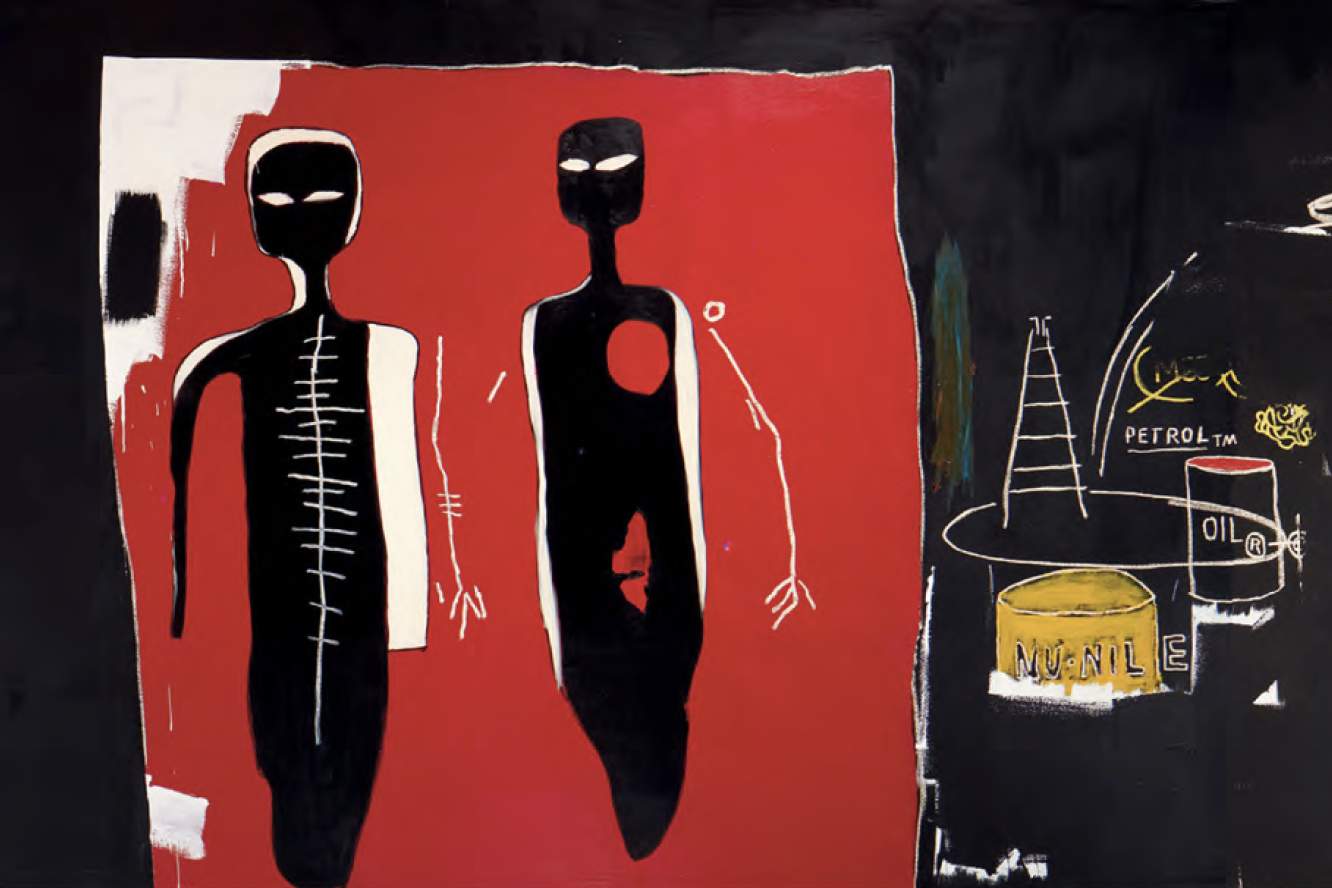 Step 2: Visual Rhythm
Jean-Michel Basquiat often returned to the same motifs in his work, repeating them multiple times in the same painting to create a visual rhythm. Some of the motifs that Basquiat used throughout his work are the human body, text, musicians and athletes, crowns, and food. These motifs reflect things and people that fascinated, inspired, and troubled him.
Sketch three motifs that you see repeated in this painting.
Where do you see the motifs repeated?
What do you think the motifs might represent?
Option 1:
What motifs reflect your interests? Choose three of your own motifs and create a composition with visual rhythm by repeating those motifs in different ways. Try making them smaller or larger, changing their color and value, varying their placement, or overlapping and combining them.
Option 2:
Listen to a song you like. Sketch images and words that come to mind as you listen. Choose three of those images and/or words and three colors to create a composition with visual rhythm using some of the same techniques that Basquiat used.
Vocabulary
Motif: a recurring image, theme, or pattern that appears in
a work of art.
Silkscreen: a printing technique where a mesh is used
to transfer ink onto a surface, except in areas made
impermeable to the ink by a blocking stencil. A blade or
squeegee is moved across the screen to fill the open mesh
spaces with ink. One color is printed at a time, so several
screens can be used to produce a multi-colored image.
Visual Rhythm: a principle of design that suggests movement or action. Rhythm is usually achieved through repetition of lines, shapes, and colors. It creates a visual tempo in artworks and provides a path for the viewer's eye to follow.
Resources
Jean-Michel Basquiat: King Pleasure
Exhibition website: kingpleasure.basquiat.com
Basquiat (2005). Brooklyn Museum of Art
brooklynmuseum.org/opencollection/exhibitions/614
Web page from the Brooklyn Museum's Basquiat retrospective in 2005; includes an in-depth analysis of Basquiat's work and life
Basquiat: The Unknown Notebooks. Brooklyn Museum of Art
Teacher resource from the exhibition, Basquiat: The Unknown Notebooks, at the Brooklyn Museum brooklynmuseum.org/search
Spotify© playlists inspired by Basquiat: King Pleasure
open.spotify.com
Listen Like Basquiat: Childhood
Listen Like Basquiat: Studio
Listen Like Basquiat: Nightlife
Listen Like Basquiat: Legacy
Books
Radiant Child: The Story of Young Artist Jean-Michel Basquiat, Javaka Steptoe. New York: Little, Brown Books for Young Readers, 2016.
Life Doesn't Frighten Me, Maya Angelou
Poems by Maya Angelou, paintings by Jean-Michel Basquiat.
Edited by Sara Jane Boyers. New York: Stewart, Tabori & Chang, 1993.
Jean-Michel Basquiat, Essays by Dick Hebdige, Klaus Kertess, Rene Ricard, Greg Tate, and Robert Farris Tompson. Biographical Chronology by Franklin Sirmans.
New York: Whitney Museum of American Art, 1992.
Films
Basquiat: Rage To Riches – BBC Studios
bbcstudios.com/case-studies/basquiat-rage-to-riches
Basquiat: Rage To Riches is a BBC Studios Documentary
Unit production for BBC Two and PBS in association with
Thirteen Productions that aired in October 2017, produced and directed by David Shulman with Executive Producer Janet Lee. It won the BAFTA Television Award for Best Specialist Factual program.
The Radiant Child – Trailer
youtube.com/watch?v=9Om2d2CxaQw
A documentary about Basquiat's life and the 1980s New York
art scene. Directed by Tamra Davis. Written by Eric Martin
and Lois Vossen. 88 minutes. Released 2010
Credits
All works ©The Estate of Jean-Michel Basquiat, Licensed by Artestar, New York
KingPleasure.Basquiat.com
Written by Nicola Giardina, Director of Teaching and Learning
With support from Julie Applebaum, Senior Director
Hasna Muhammad, Ed.D., Chair, Board of Directors, Studio in a School Association
Alison Scott-Williams, President, Studio in a School NYC

Copyright © 2023 Studio in a School NYC LLC