Overview
Jean-Michel Basquiat was born and raised in Brooklyn, New York. His mother's family was from Puerto Rico and his father was from Haiti. Growing up in a multilingual family, Jean-Michel Basquiat spoke English, Spanish, and French fluently. As a child, Basquiat loved to draw and look at art. His mother, Matilde, nurtured her son's love of art by taking him to museums and making art with him at home. Jean-Michel Basquiat said, "…my mother gave me all the primary things. The art came from her."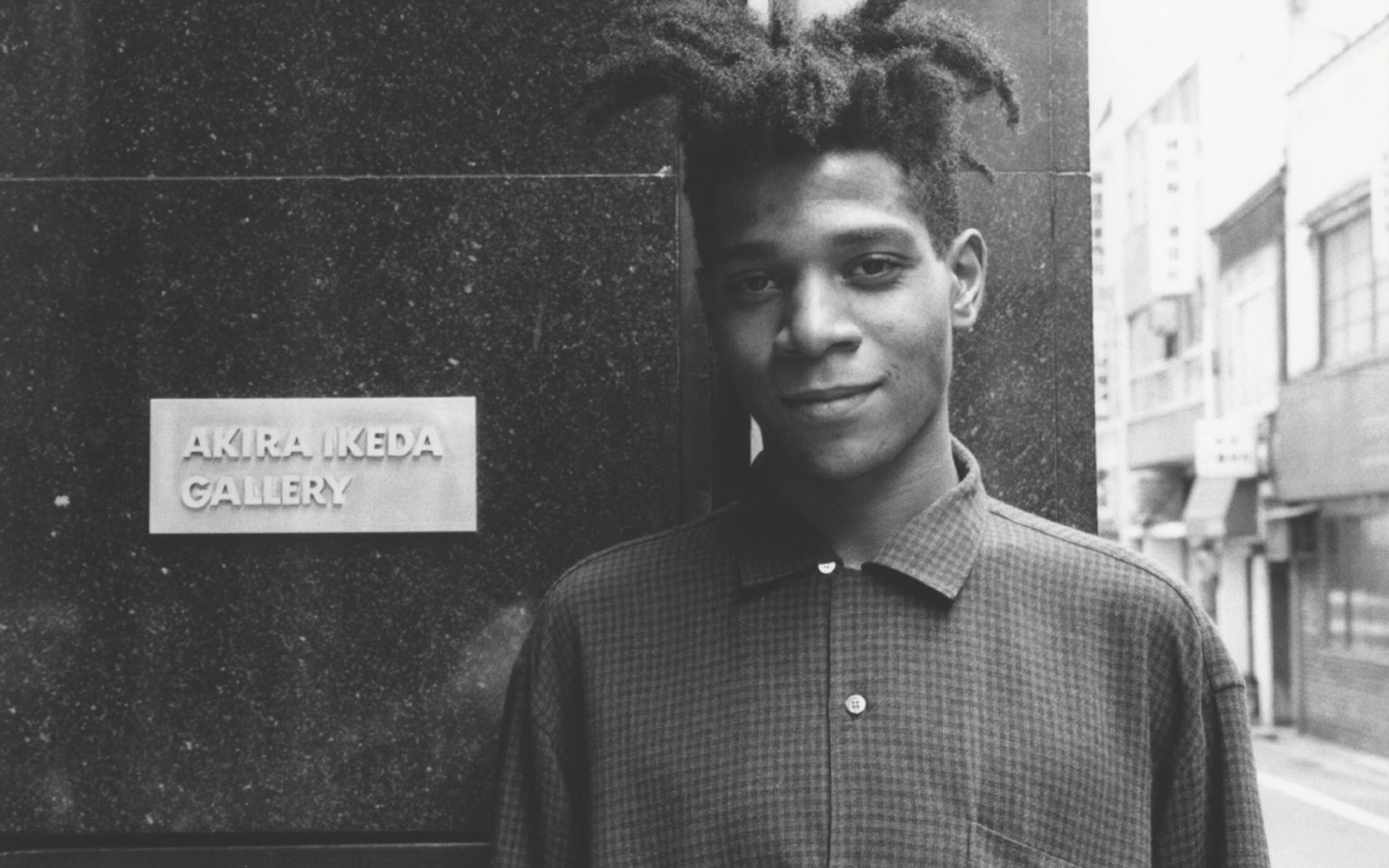 As a teenager, Basquiat gained notoriety as a graffiti poet and musician on the Lower East Side of New York. Using the tag SAMO© (for "same old"), he and his friend Al Díaz wrote cryptic, humorous graffiti that captured the attention of the city. By the time he was 20 years old, Basquiat had made the transition from writing graffiti to selling paintings in SoHo galleries. He quickly became one of the most accomplished artists of his generation. His work was recognized internationally for its originality, expressiveness, and formal qualities. Tragically, Basquiat died when he was just 27 years old. His work continues to be relevant and influential today.
About the Exhibition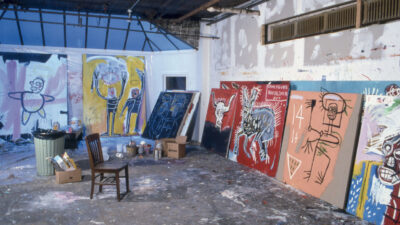 Organized and curated by the family of Jean-Michel Basquiat, this exhibition includes over 200 never-before-seen and rarely shown paintings, drawings, multimedia presentations, ephemera, and artifacts. Together, they tell the story of Basquiat from an intimate perspective, intertwining his artistic endeavors with his personal life, influences, and the times in which he lived.
Jean-Michel Basquiat's contributions to the history of art and his explorations of multifaceted cultural phenomena—including music, the Black experience, pop culture, Black American sports figures, literature, and other sources—are showcased through immersive environments that provide unique insight into the late artist's creative life and his singular voice that propelled a social and cultural narrative that continues to this day.
Grade levels 
6, 7, 8, 9, 10, 11, 12
Media/Theme
Mixed Media
Essential Question
Looking closely, making connections, and responding to selected works of art featured in the exhibition Jean-Michel Basquiat: King Pleasure.
Lessons
Materials and Tools
Paper
Drawing materials (any)
Glue
Access to a copy machine
Tempera or acrylic paint or oil pastels
Scissors (optional)
Objectives
This educator guide was created to engage middle- and high-school students in looking closely, making connections, and responding to selected works of art featured in the exhibition Jean-Michel Basquiat: King Pleasure.
The guide includes questions and art-making activities related to three focus artworks. Educators are invited to pick and choose what is useful to them and to adapt the questions and activities to their students.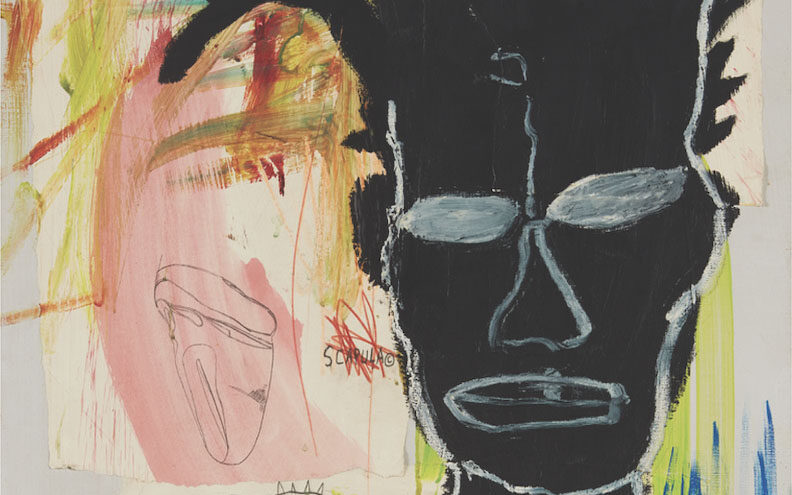 Vocabulary
Motif: a recurring image, theme, or pattern that appears in
a work of art.
Silkscreen: a printing technique where a mesh is used
to transfer ink onto a surface, except in areas made
impermeable to the ink by a blocking stencil. A blade or
squeegee is moved across the screen to fill the open mesh
spaces with ink. One color is printed at a time, so several
screens can be used to produce a multi-colored image.
Visual Rhythm: a principle of design that suggests movement or action. Rhythm is usually achieved through repetition of lines, shapes, and colors. It creates a visual tempo in artworks and provides a path for the viewer's eye to follow.
Resources
Jean-Michel Basquiat: King Pleasure
Exhibition website: kingpleasure.basquiat.com
Basquiat (2005). Brooklyn Museum of Art
brooklynmuseum.org/opencollection/exhibitions/614
Web page from the Brooklyn Museum's Basquiat retrospective in 2005; includes an in-depth analysis of Basquiat's work and life
Basquiat: The Unknown Notebooks. Brooklyn Museum of Art
Teacher resource from the exhibition, Basquiat: The Unknown Notebooks, at the Brooklyn Museum brooklynmuseum.org/search
Spotify© playlists inspired by Basquiat: King Pleasure
open.spotify.com
Listen Like Basquiat: Childhood
Listen Like Basquiat: Studio
Listen Like Basquiat: Nightlife
Listen Like Basquiat: Legacy
Books
Radiant Child: The Story of Young Artist Jean-Michel Basquiat, Javaka Steptoe. New York: Little, Brown Books for Young Readers, 2016.
Life Doesn't Frighten Me, Maya Angelou
Poems by Maya Angelou, paintings by Jean-Michel Basquiat.
Edited by Sara Jane Boyers. New York: Stewart, Tabori & Chang, 1993.
Jean-Michel Basquiat, Essays by Dick Hebdige, Klaus Kertess, Rene Ricard, Greg Tate, and Robert Farris Tompson. Biographical Chronology by Franklin Sirmans.
New York: Whitney Museum of American Art, 1992.
Films
Basquiat: Rage To Riches – BBC Studios
bbcstudios.com/case-studies/basquiat-rage-to-riches
Basquiat: Rage To Riches is a BBC Studios Documentary
Unit production for BBC Two and PBS in association with
Thirteen Productions that aired in October 2017, produced and directed by David Shulman with Executive Producer Janet Lee. It won the BAFTA Television Award for Best Specialist Factual program.
The Radiant Child – Trailer
youtube.com/watch?v=9Om2d2CxaQw
A documentary about Basquiat's life and the 1980s New York
art scene. Directed by Tamra Davis. Written by Eric Martin
and Lois Vossen. 88 minutes. Released 2010
Credits
All works ©The Estate of Jean-Michel Basquiat, Licensed by Artestar, New York
KingPleasure.Basquiat.com
Written by Nicola Giardina, Director of Teaching and Learning
With support from Julie Applebaum, Senior Director
Hasna Muhammad, Ed.D., Chair, Board of Directors, Studio in a School Association
Alison Scott-Williams, President, Studio in a School NYC

Copyright © 2023 Studio in a School NYC LLC