Overview
King Pleasure: No Summer Hot Water Ossining
Family relationships and history were very important to Jean-Michel Basquiat. This drawing references many of Basquiat's family members and alludes to people, places, and stories from his childhood, as well as cultural references from the 1960s, the decade in which he grew up.
Grade Level
6-12
Media Theme/Big Idea
Jean-Michel Basquiat creates a map of some of his important relationships, including names, memories, and stories.
Essential Questions
Looking closely, making connections, and responding to selected works of art featured in the exhibition Jean-Michel Basquiat: King Pleasure.
Samples from this Curriculum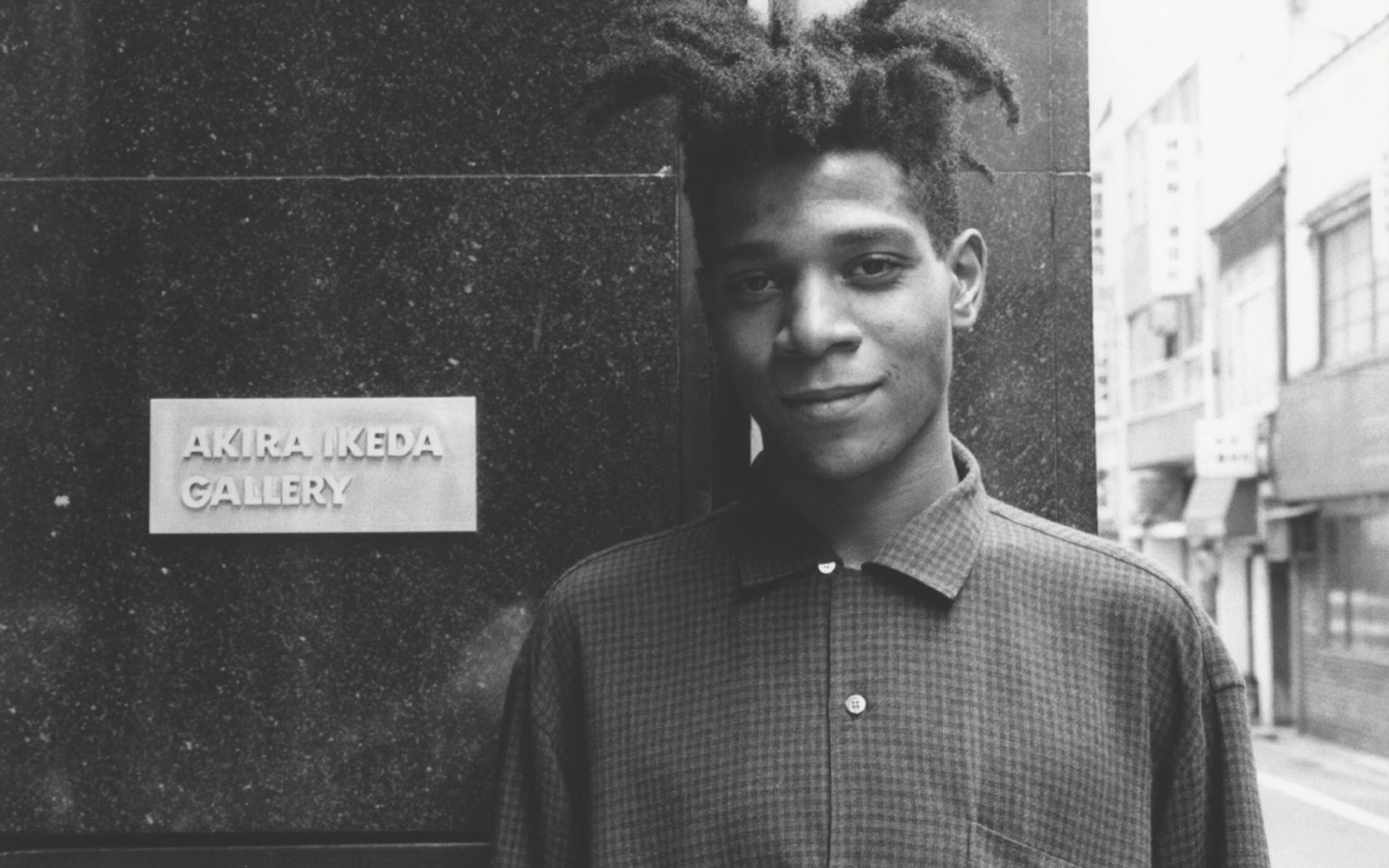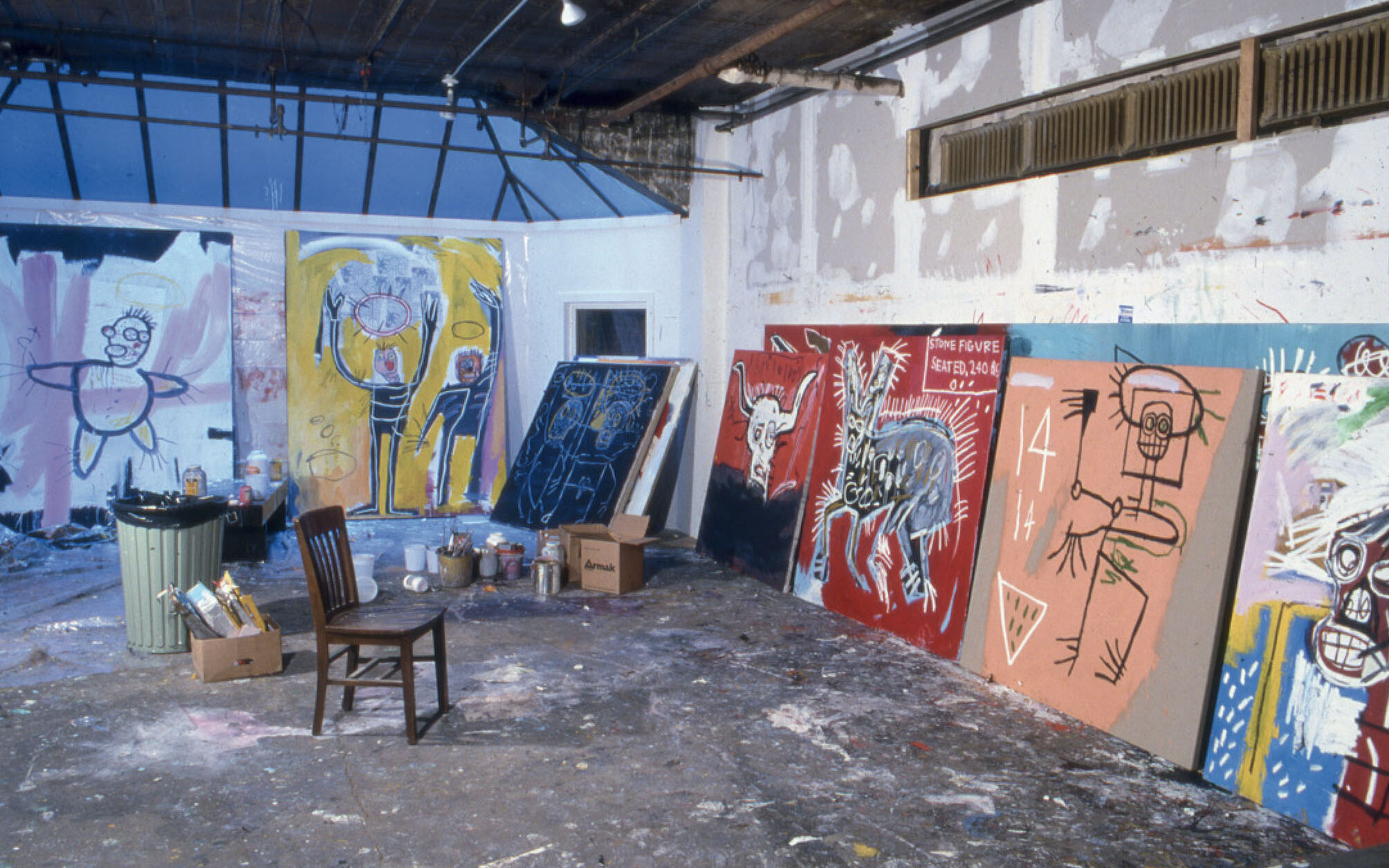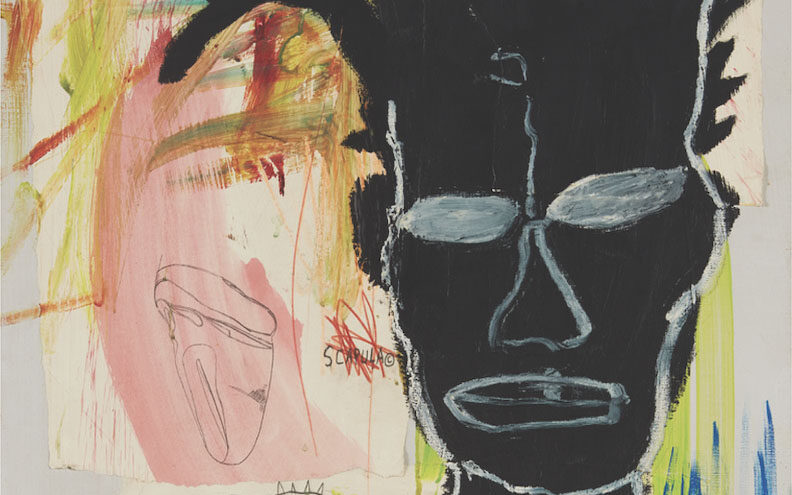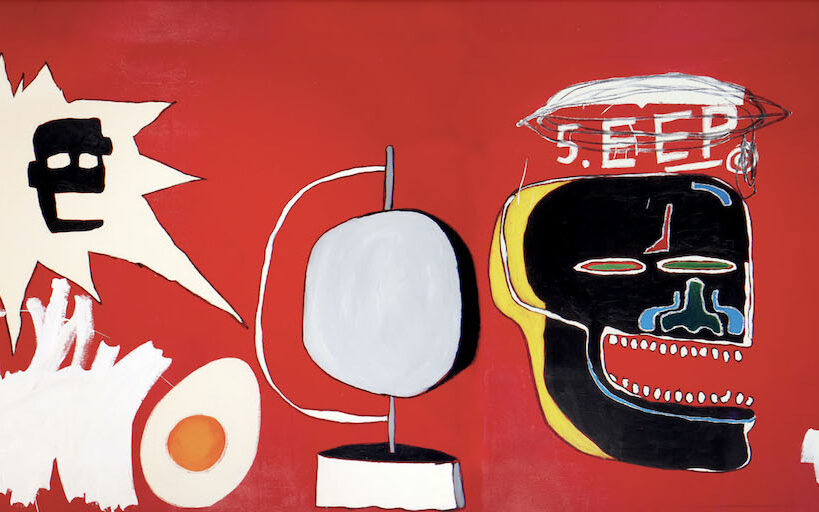 Materials and Tools
Paper
A drawing tool such as pencil, pen, colored pencil, or marker
Activities
Step 1: Questions for Looking
What's surprising to you about this work of art?
This drawing is made almost entirely of words. What are some ways that Basquiat varies the text in this drawing?
In this drawing, Basquiat depicted some of his family relationships and history. What are some names that stand out to you? How does Basquiat show connections between people?
Use the Drawing Key (see About the Artwork) to decode some of the elements of the drawing. Note to teachers: You may choose to share the entire key and give students time to read and make connections to the drawing, or you could provide each student with one or two bullets from the key and invite them to share out with the class.
What other words and phrases stand out to you?
What clues can you find in this drawing about Basquiat's family and how he felt about them?
What questions are you left with after looking closely at this drawing?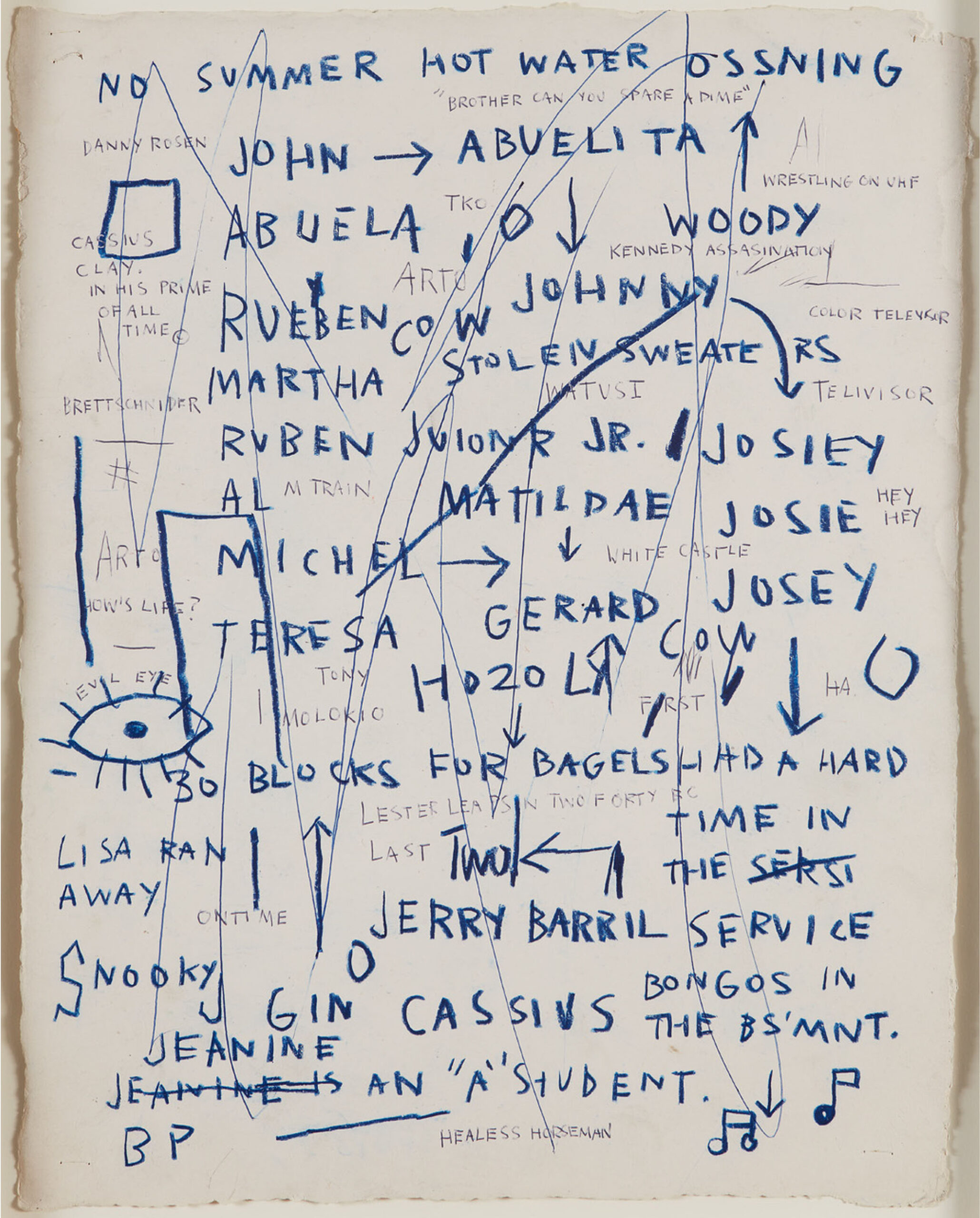 Step 2: Drawing Key
Woody (Worthy) was a friend of Basquiat's father who lived in Ossining, a suburb of New York City.
Abuela means grandmother in Spanish, as does abuelita ("little grandma"), a term of endearment. Basquiat was multilingual; he spoke English, Spanish, and French.
Matilde and Gerard are the names of Basquiat's parents.
Basquiat had two younger sisters, Lisane and Jeanine. "Snooky" is a reference to Lisane. "Jeanine is an A student" refers to Jeanine.
"Bongos in the basement" refers to Basquiat's maternal grandfather, who was Puerto Rican, and his friends who would have jam sessions in the basement. Basquiat and his sisters would hang out at the top of the stairs and listen to them play music.
Josie was Basquiat's maternal uncle, who served in the Army and "had a hard time in the service." Johnny, another maternal uncle, served in the Navy, and abuelo, his grandfather, was a Merchant Marine.
"Kennedy Assassination" refers to the assassination of John F. Kennedy, the 35th president of the United States, in 1963 when Jean-Michel was 3 years old. 
Watusi is a dance craze from the 1960s.
"Cassius Clay, in his prime of all time" refers to the boxer and activist Muhammad Ali (born Cassius Clay).
Step 3: Create a Relationship Map
In this artwork, Jean-Michel Basquiat creates a map of some of his important relationships, including names, memories, and stories.
Create a relationship map of your family or friend group.
Who will you include?
What events, people, music, food, or places remind you of these relationships?
Will you show your relationships with words, pictures, or both?
What other ideas will you include?
Note: this activity can come before or after viewing the work.
Vocabulary
Motif: a recurring image, theme, or pattern that appears in
a work of art.
Silkscreen: a printing technique where a mesh is used
to transfer ink onto a surface, except in areas made
impermeable to the ink by a blocking stencil. A blade or
squeegee is moved across the screen to fill the open mesh
spaces with ink. One color is printed at a time, so several
screens can be used to produce a multi-colored image.
Visual Rhythm: a principle of design that suggests movement or action. Rhythm is usually achieved through repetition of lines, shapes, and colors. It creates a visual tempo in artworks and provides a path for the viewer's eye to follow.
Resources
Jean-Michel Basquiat: King Pleasure
Exhibition website: kingpleasure.basquiat.com
Basquiat (2005). Brooklyn Museum of Art
brooklynmuseum.org/opencollection/exhibitions/614
Web page from the Brooklyn Museum's Basquiat retrospective in 2005; includes an in-depth analysis of Basquiat's work and life
Basquiat: The Unknown Notebooks. Brooklyn Museum of Art
Teacher resource from the exhibition, Basquiat: The Unknown Notebooks, at the Brooklyn Museum brooklynmuseum.org/search
Spotify© playlists inspired by Basquiat: King Pleasure
open.spotify.com
Listen Like Basquiat: Childhood
Listen Like Basquiat: Studio
Listen Like Basquiat: Nightlife
Listen Like Basquiat: Legacy
Books
Radiant Child: The Story of Young Artist Jean-Michel Basquiat, Javaka Steptoe. New York: Little, Brown Books for Young Readers, 2016.
Life Doesn't Frighten Me, Maya Angelou
Poems by Maya Angelou, paintings by Jean-Michel Basquiat.
Edited by Sara Jane Boyers. New York: Stewart, Tabori & Chang, 1993.
Jean-Michel Basquiat, Essays by Dick Hebdige, Klaus Kertess, Rene Ricard, Greg Tate, and Robert Farris Tompson. Biographical Chronology by Franklin Sirmans.
New York: Whitney Museum of American Art, 1992.
Films
Basquiat: Rage To Riches – BBC Studios
bbcstudios.com/case-studies/basquiat-rage-to-riches
Basquiat: Rage To Riches is a BBC Studios Documentary
Unit production for BBC Two and PBS in association with
Thirteen Productions that aired in October 2017, produced and directed by David Shulman with Executive Producer Janet Lee. It won the BAFTA Television Award for Best Specialist Factual program.
The Radiant Child – Trailer
youtube.com/watch?v=9Om2d2CxaQw
A documentary about Basquiat's life and the 1980s New York
art scene. Directed by Tamra Davis. Written by Eric Martin
and Lois Vossen. 88 minutes. Released 2010
Credits
All works ©The Estate of Jean-Michel Basquiat, Licensed by Artestar, New York
KingPleasure.Basquiat.com
Written by Nicola Giardina, Director of Teaching and Learning
With support from Julie Applebaum, Senior Director
Hasna Muhammad, Ed.D., Chair, Board of Directors, Studio in a School Association
Alison Scott-Williams, President, Studio in a School NYC

Copyright © 2023 Studio in a School NYC LLC