Overview
Students will explore ways to use their sketchbook using materials found in the home.
Grade Level
6-12
Media
Drawing, Construction, Collage
Theme/Big Idea
Artists use sketchbooks to collect ideas and observations, express feelings, plan future work and experiment with materials and art making. Sketchbooks can be used as inspiration and as a record of life experiences.  
Essential Question
How can I make a sketchbook using materials in my home? What are some ways that artists use sketchbooks?
---
Materials and Tools
Your sketchbook from previous lesson
Drawing tools found in the home (pencils, pens, crayons, chalk, even old lipstick
or makeup)
Interesting papers with different textures (paper bag, wrapping paper, envelopes)
Activities
Step 1: On a page of your sketchbook, explore making marks and lines with each household drawing tool that you've found.
Step 2: On another page, glue down some of the papers that you've collected.
Step 3: Experiment with mark making on these different papers using tools you have found.
Close Looking: El Anatsui
Take a look at these two images by the artist El Anatsui. On the top is a drawing from the artist's sketchbook, and on the bottom, a finished sculpture.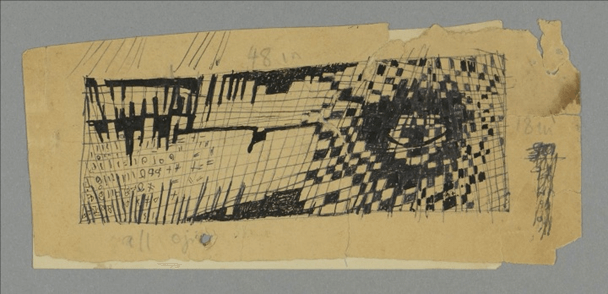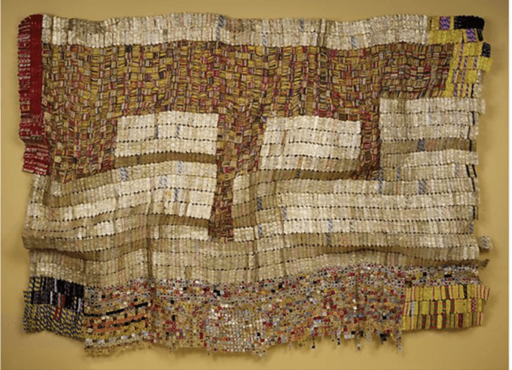 What do you see in the sketch that the artist incorporated in the sculpture?
What did he change or leave out?
How does the sculpture expand on the ideas in the sketch?
Reflection Questions
How did the different drawing tools work on each paper?
What was your favorite combination of drawing tool and paper type, and why?
Vocabulary
Exploration
Marks
Lines
Drawing tools
Resources
El Anatsui, Untitled #56 (recto), Pen and ink on paper, 3.5 x 7.9", Collection of the artist
El Anatsui, Between Earth and Heaven, 2006, Aluminum, copper wire, H. 86 3/4 in. × W. 10 ft. 8 in. × D. 8 in., Metropolitan Museum of Art